Lone Star Steakhouse & Saloon Sweet Bourbon Salmon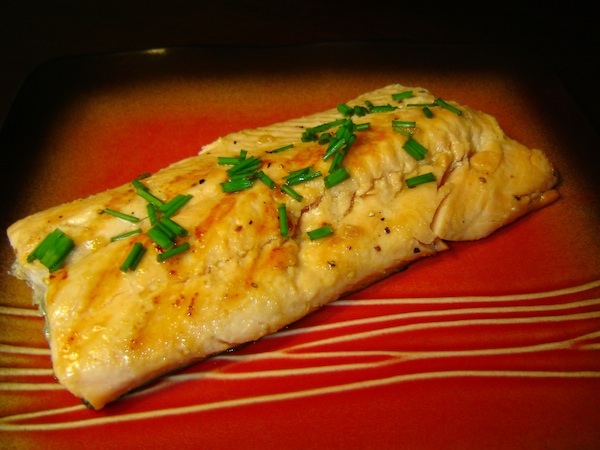 Lone Star Steakhouse & Saloon Sweet Bourbon Salmon
Fresh salmon filet, marinated and mesquite grilled.
It is said that Americans eat an estimated 63 pounds of beef per capita, and we get a lot of it in chain restaurants. But for those of you who want something other than beef, Lone Star has additional selections including the Sweet Bourbon Salmon.
Don't worry if you can't mesquite grill your salmon, it's the sweet bourbon marinade that makes this dish so tasty. Not only is this marinade good on salmon, but on other fish and chicken as well. If you do happen to use a charcoal grill and have some mesquite smoking chips on hand, soak a handful of chips in water for a couple hours and then arrange them on the red-hot coals. This will give your salmon a taste even closer to the original.
"Top Secret Restaurant Recipes" by Todd Wilbur
Ingredients
16

oz

Salmon filet

2 Salmon filets - (8 oz ea)

2

tablespoons

brown sugar

2

tablespoons

soy sauce

1

teaspoon

Kentucky bourbon

we are using Jack Daniels

1/4

teaspoons

black pepper

cracked

1/8

teaspoons

garlic powder

1/2

cups

vegetable oil

2

teaspoons

fresh chives

snipped
Instructions
Combine the pineapple juice, soy sauce, brown sugar, bourbon, pepper and garlic powder in a medium bowl. Stir to dissolve the sugar. Add the oil.

Be sure all of the skin is removed from the salmon. Place the fillets in a shallow dish and pour the bourbon marinade over them saving a little to brush on the fish as it cooks. Put a lid over the fish and refrigerate for at least an hour. A few hours is even better.

Preheat your barbeque or stovetop grill over medium-high heat.

Cook the fish for 5 to 7 minutes per side or until each filet is cooked all the way through. Regularly brush the filets with the marinade.

Arrange the filets on each plate with the chives sprinkled over the top.