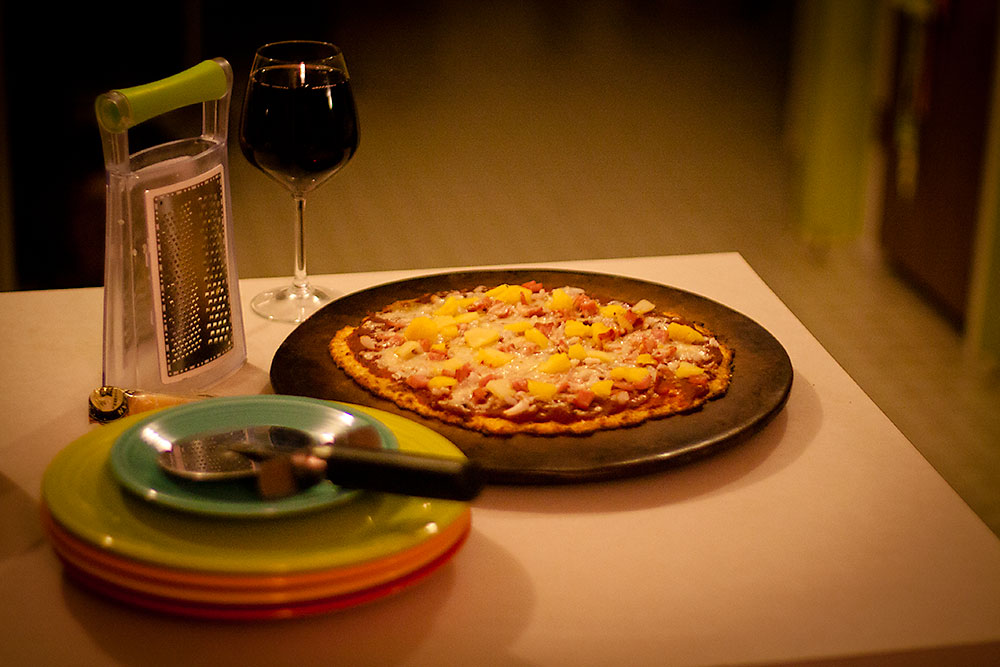 Cauliflower Crust Pizza
Ingredients
1

head

Cauliflower

organic if available

1/2

cup

Fresh Parmesan cheese

grated

1/2

cup

Fresh Mozzarella Cheese

grated

1/2

tsp

Sea Salt

1

tsp

Dried Basil

1

tsp

Dried Oregano

1

tsp

Garlic

Red Pepper Flakes

(optional)

2

tbsp

Almond Meal

(recommended but optional)

2

Whole Egg

local farm fresh if available
Instructions
Crust
Place a pizza stone in the oven, or baking sheet if you don't have a pizza stone. Preheat oven to 450ºF.

On a cutting board, place a large piece of parchment paper and spray it with nonstick cooking oil.

Wash and thoroughly dry a medium head of cauliflower. Don't get one the size of your head unless you are planning on making 2 pizzas. Cut off the florets—you don't need much stem, just stick with the florets.

Pulse in your food processor for about 30 seconds, until you get powdery snow like cauliflower. You should end up with 2 to 3 cups cauliflower "snow".

Place the cauliflower in a microwave safe bowl and cover. Cook for 4 minutes. Dump cooked cauliflower onto a clean tea towel and allow to cool for a bit before attempting the next step.

Once cauliflower is cool enough to handle, wrap it up in the dish towel and wring the heck out of it. You want to squeeze out as much water as possible. This will ensure you get a chewy pizza like crust instead of a crumbly mess.

Dumped squeezed cauliflower into a bowl. Now add Parmesan cheese, mozzarella cheese, kosher salt, dried basil (crush up the leaves even more between your fingers before adding), dried oregano (crush up the leaves even more between your fingers before adding), garlic powder (not garlic salt), and a dash of red pepper if you want. I also added 1 tablespoon almond meal because my cauliflower yielded closer to 2 cups of cauli snow; this is optional and I would not add the almond meal if you have closer to 3 cups of cauli snow. Now add the egg and mix away. Hands tend to work best.

Once mixed together, use your hands to form the dough into a crust on your oiled parchment paper. Pat it down thoroughly, you want it nice and tightly formed together. Don't make it too thick or thin either.

Using a cutting board, slide the parchment paper onto your hot pizza stone or baking sheet in the oven. Bake for 8-11 minutes, until it starts to turn golden brown. Remove from oven.
Toppings
Add however much sauce, cheese, and toppings you want. I'm not gonna give you measurements for this. You know how you like your pizza—so go for it! Slide parchment with topped pizza back in the hot oven and cook for another 5 to 7 minutes until the cheese is melted, bubbly, and slightly golden.

Test your patience and allow it to cool for a minute or two. Probably closer to two. Then using a pizza cutter and a spatula, serve up your delicious grain-free cauliflower crust pizza!
Notes
Kim and I have given up wheat in our diet for a host of reasons but we are both pizza lovers and have been seeking a GOOD alternative to a wheat crust. We made this the other night with Scott, Lynnette and baby Nolan.  Just as I was taking it out of the oven Angie stopped by to pick up the baby and was able to sample as well. I found it to be easy to make and it was also delicious.  Not only is the crust simple, it is FAST, and with our busy schedules that's important. This is an awesome recipe for when you want pizza and you are short on time, or when you want pizza but are willing to draw outside the lines a bit, or when you want pizza but need to stay away from gluten. Or maybe you're trying to sneak in some extra veggies.
This gets even better with an array of toppings. I kept it simple with some  Canadian bacon, onion, pineapple, mozzarella cheese and organic sauce. But now, all I'm envisioning is buffalo chicken, grilled vegetables, cheeseburger pizza, and other endless options. So excited. Let's get started!
Jeff