Baked Parmesan Kale Chips
Event: Tapas with Rhonda & Robin
Link to Original Recipe on skinnytaste.com
Calories: 50.2 • Fat: 2.8 g • Protein: 3.6 g • Carb: 3.4 g • Fiber: 1.1 g • Sugar: 0.7 g • Sodium: 126 mg (without salt)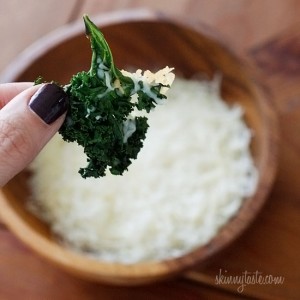 Baked Parmesan Kale Chips
Kale chips are very versatile, healthy and can satisfy the unhealthy potato chip urge. Store dried kale chips in an airtight container.
Ingredients
1

bunch

kale

12 oz after removed from stems

1

tsp

olive oil

spray

1

sprinkle

Sea Salt

1/2

cup

Parmesan cheese

shredded
Instructions
Preheat oven to 350°F. Lightly spray two large baking sheets with oil.

Wash and thoroughly dry kale. Remove the leaves from the thick stems and tear into bite sized pieces.

Place on baking sheets, spray with olive oil and sprinkle with salt.

Bake about 10-12 minutes, turning and moving them around as they shrink to make sure they evenly crisp up.

Top with shredded parmesan cheese, keeping a close eye on them, bake an additional 5 to 6 minutes until the edges are crisp but not burnt. Time will vary depending on your oven.
Notes
Nick prepared this recipe at our event Tapas with Rhonda & Robin
FAST IDEAS FOR FRESH FLAVOR

Kale Chips with Kick: Add a teaspoon or two of Sriracha sauce to the oil before tossing with kale and baking.
Lemon Zest Kale Chips: Finely grate lemon zest over the kale chips as soon as they come out of the oven.
Soy Sauce-Kale Chips: Replace half the oil with soy sauce, and cut back on salt, for some savory, umami flavor.
Double-Healthy Kale Chips: Sprinkle with nutrient-rich nutritional yeast. (Okay, this one might be veering back into the "hippie food" category, but trust us, it's delicious! The chips taste nice and cheesy)
Chile-Lime Kale Chips: Mix a bit of chile powder in with the salt, squeeze lime juice over kale chips when they're hot out of the oven.