Flank Steak w/ Goat Cheese on Toast
Original recipe: http://www.steamykitchen.com/14806-flank-steak-on-goat-cheese-toast.html
Event: Tapas with Rhonda & Robin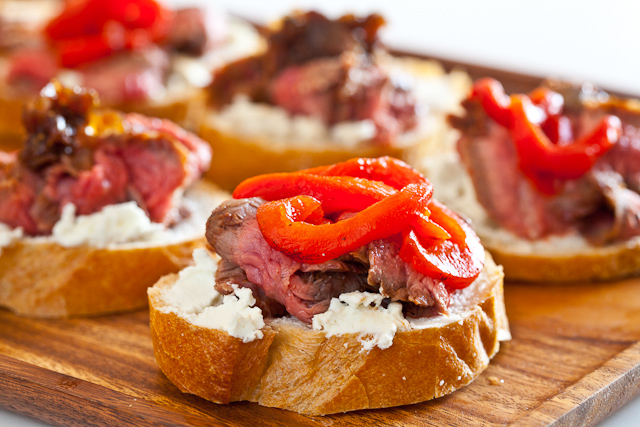 Flank Steak w/ Goat Cheese on Toast
Open-face steak sandwiches.
Ingredients
1

tsp

smoked paprika

2

tsp

red chili pepper flakes

2

Tbs

olive oil

salt

black pepper

freshly ground

1-1/2

lbs

flank steak

or skirt steak

8

oz

roasted red bell peppers

jar or roast 1 red pepper

6

oz

goat cheese

1/2

cup

fig jam

or your choice of jam/chutney

1-2

loaves

baguette
Instructions
Marinade steak
In a resealable bag, mix together the paprika, pepper flakes, olive oil, salt and pepper. Add the steak, seal bag and refrigerate up to overnight.
Cook and assemble
To cook the flank steak, heat a grill pan over high heat. Grill the flank steak, turning once, about 8-10 minutes total for medium-rare. Let steak rest before slicing.

While the steak is resting, slice the bread into thin slices. Toast the bread in the oven if you'd like.

Slice the steak very thinly (as thin as you can) ACROSS the grain.

Top each toast with goat cheese, steak, a couple of red bell pepper slices and/or small spoonful of fig jam.
Notes
When our club cooked this recipe, we substituted top sirloin for the flank steak because it was on sale making it a better value for our club. We also roasted a fresh red pepper rather than purchasing canned. This took a little additional time, but Kathy Jo provided us with a wonderful red pepper. We tried a few with brie cheese, but the conciseness was that the goat cheese was much better.  Paul suggested trying it with blue cheese.  We skipped the fig jam since none was available locally. Everyone loved the marinade because it had a little kick without being hot.
This recipe was prepared by Robin, Kathy Jo & Lynnette at Tapas with Rhonda & Robin